Automated Timekeeping for All Your Associates
Track Worker Activity and Facilitate Invoicing
ACT•1's automated timekeeping systems help build an effortless tracking, invoicing, and payment process for you and your contingent workforce. Our Timekeeping Module helps ensure that your accounts payable department receives accurate invoices in a timely manner, because no duplicate timecard entry is necessary. Your temporary and contract associates will also appreciate our automated timekeeping systems, because they eliminate lost or damaged timecards, allowing workers to get paid accurately and on time.
Server and Web-based Timekeeping
Eliminate manual timekeeping
Help control labor usage and budget allocations
Facilitate timely invoicing and allocation of labor
Track hours worked by department, project, or cost center
Allow supervisors to approve and edit timecards via the Internet
Ensure integrity of the billing process for all temporaries from all approved vendors
Produce time-related management reports (i.e., FTE measurements)
Timekeeping Entry Options
Bar code reader
Swipe card
Keyboard
Biometric (fingerprint and retinal scan capabilities)
This option is the ideal timekeeping tool for many office and light industrial environments, and offers the ability to track associates working on multiple projects in different departments.
Web-Based Timecard
Web-Based Timecard allows workers to record their time via a secure website and enables supervisors to approve and edit time card information via the Internet.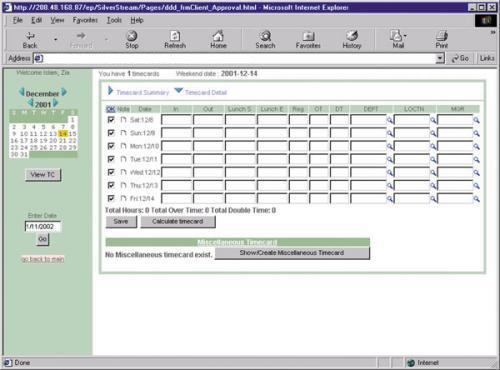 Online Management Reports
ACT•1's Timekeeping Module helps you track and control temporary worker usage by department, project, cost center, or any other requirement. This Timekeeping Module generates customized management reports to help you control costs, determine trends, and create more accurate forecasts of future staffing requirements.